The government does not reimburse uninsured livestock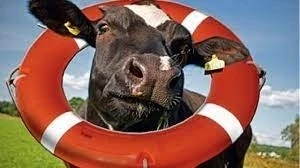 The government of Kazakhstan does not reimburse uninsured livestock. Minister of Agriculture Yerbol Karashukeyev, who arrived in the Government Hour in the Majilis of the Parliament on April 4, answered journalists' questions.
"The law does not say that the government will cover the losses of livestock killed in the floods," he said.
This spring, floods have hit every region of Kazakhstan, damaging homes and livestock. In West Kazakhstan and Aktobe regions, residents of dozens of houses were evacuated due to flooding in several settlements. Residents of the flooded area reported livestock losses.
According to Yerbol Karashukeyev, although the government has not reimbursed the loss of livestock, it is considered a dead animal. Such information is collected by local ex.com. and submitted to the ministry.
Kazakhstan has a livestock insurance system from autumn 2020. Under this system, if the insured animal dies from infectious diseases, dangerous natural phenomena, accidents, the costs will be paid by the Fund for Financial Support of Agriculture.